Avoiding the bottleneck – why data maturity matters in securing the future of your business
What is 'data maturity' and why is it important? Today's organizations are increasingly focused on the digitalization and optimization of their business processes. However, many lack the capability to maximize their value from data. In a conversation with Patrik Rosenberg, Head of Business Development at Combient Mix, he reveals the step-by-step process of becoming a data driven organization.
It's about your ability to handle business challenges
One of the greatest misconceptions of data driven processes is that the main objective is to build state of the art technology. Patrik Rosenberg states that the meaning of a data driven mindset is more about your ability to handle and address your business challenges using data. He outlines the process of becoming data driven in 4 steps:
Start by working exploratively. Task a smaller number of people within your organization to make initial attempts at solving business problems using data.
Scale up your experiments.

When you start experimenting on a larger scale you start building a test organization that produces ideas.
Share your good examples.

Sharing your progress with your organization will lead to a cultural shift – from gut driven to insights driven. They will realize the benefits of using information and insights as a foundation for objective decision-making.
Start upscaling.

After a while all departments within your organization are using both simple and advanced data analysis – your organization is now data mature!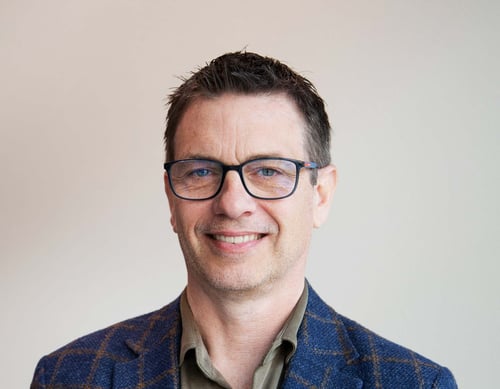 Patrik Rosenberg, Head of Business Development, Combient Mix.
Having said that, Patrik acknowledges the importance of having both the supporting architecture and technology in place as well as having the data in order. However, both architecture, technology and data quality should be dictated by the needs and the value to be achieved to make sure it is built as fit for purpose as possible.
Strategies for developing data driven businesses
Determine what data to use by focusing on the business problem you aim to solve. According to Patrik, a good presumption is that your organization already to a large extent has existing relevant data that will be proven valuable for solving problems and optimizing. If this is not the case, you should consider starting with another business problem, while the gaps found for the original problem should be addressed in parallel to not lose time. It can also be said that even if a lack of data is found, there might be a subset of concrete value to be found by tweaking the scope to fit the existing data.
This same strategy should be applied while developing your organization to become data driven. The development of data drivenness needs to be in constant dialogue with your overall business objectives, otherwise, you risk building something that is not usable for the entire organization.
– Being data driven means making it a natural part of your business strategy. I sometimes see businesses that are stuck in the exploratory phase, where a small central team is working with data analysis. This creates a bottleneck where the other teams provide ideas that are not yet mature, which means the central team might be wasting time on sorting out the good ideas from the bad.
As an addition to having a small data driven team, you should also upscale by relocating the knowledge and understanding of how data can be used to improve the work of all departments.
– If entire organizations are permeated by an analytical culture the conversations become much easier, and everyone will understand why objective data is important when making business decisions.
Data driven organizations – a threat to the labor market?
There are very few, if any exact assessment methods that enable you to see your entire organization's current data maturity, according to Patrik. One way of addressing this is to make a self assessment on a departmental level on where you are on the below scale to get some understanding.

He adds that data should be analyzed from a human perspective. Many fear that data driven work and the development of AI is a threat to the general labor market. However, Patrik means that data driven work practices predominantly aim to make us humans faster and smarter by leveraging data intelligently.
In conclusion, optimizing our businesses using a data driven mindset is a core competence for both organizations and individuals to achieve success, meet, and overachieve company objectives.